For your initial visit, please fill out this questionnaire and bring it in with you, along with any insurance information you have received from your employer, employer information and phone numbers.
Click on the form link below to download a PDF version of the file you will be able to print: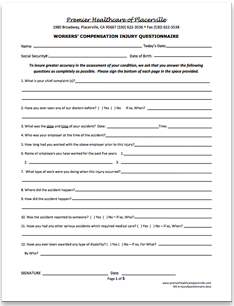 Did you know you If you have to travel to get treatment for your work injury, you are entitled to re-payment of your travel costs?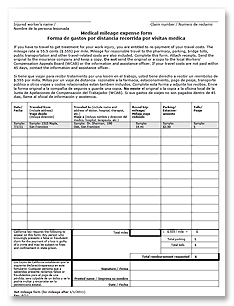 Download the Medical Mileage Expense Form (English/Spanish) Rev. 1/1/17
The current mileage rate is 53.5 cents per mile (as of 1/1/17). Mileage for reasonable travel to your doctor, the pharmacy, parking, bridge tolls, public transportation and other travel-related costs are also included.  Complete the form. Attach receipts. Send the original to the insurance company and remember to keep a copy for yourself.