We accept California Workers' Compensation patients at Premier Healthcare and Chiropractic.
Workers' compensation benefits are designed to provide you with the medical treatment you need to recover from your work related injury or illness, partially replace the wages you lose while you are recovering, and help you return to work. Workers' compensation benefits do not include damages for pain and suffering or punitive damages.
If you are injured at work:
Report the injury or illness to your employer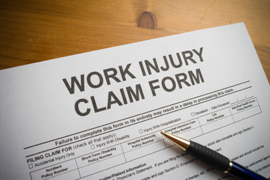 Make sure your supervisor is notified of your injury as soon as possible. If your injury or illness developed gradually, report it as soon as you learn or believe it was caused by your job. Reporting promptly helps avoid problems and delays in receiving benefits, including medical care. If you don't report your injury within 30 days, you could lose your right to receive workers' compensation benefits.
Get emergency treatment if needed
If it's an emergency, call 911 or go to an emergency room right away. Tell the medical staff that your injury or illness is job-related. If you can safely do so, contact your employer for further instructions.
If you don't need emergency treatment, make sure you get first aid and see a doctor if necessary.
What's next?
Once you file a claim, your employer is required to provide you with medical care.
If I haven't predesignated and my employer doesn't have an MPN* or an HCO**, who will be my doctor?
The claims administrator has the right to select your treating doctor for the first 30 days after your employer knows that you were injured. After the first 30 days, you may be treated by a physician of your choice or at a facility of your choice within a reasonable geographic area.
IMPORTANT to know: Additionally, if you gave your employer the name and business address of a personal chiropractor or acupuncturist in writing prior to your injury or illness, after 30 days you may be able to transfer care to your personal chiropractor or acupuncturist.
*MPN: a group of physicians and other health care providers selected by the employer or insurer to treat injured workers.
** HCO: an organization certified by the DWC to provide managed medical care to injured workers.
For more facts and information go to the CA. Dept of Industrial Relations web site. 
---
Did you know?
If your employer does not give you the claim form, you can contact the Information and Assistance Unit or call 1-800-736-7401 if you have questions
If you have filed a claim form and if your employer doesn't deny your claim within 90 days, your injury is presumed to be covered
Within one day of filing a claim form, your employer must authorize appropriate medical treatment. While your employer is deciding whether to accept or reject your claim, you may receive up to $10,000 in medical treatment
If you have filed a claim form with your employer, you will also be entitled to an increase in your payments if your employer fails to pay your indemnity payments timely.
---
Workers' Compensation & Your Medical Mileage Reimbursement: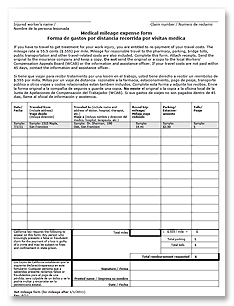 Did you know you can be reimbursed for your mileage to and from the doctors' office or any other related visits, using your vehicle, if it is related to your Worker's Compensation injury?
Medical Mileage Form – in PDF Format (for travel on or after 1/1/17)
Note: Click on the above link. The Medical Mileage form will open up in your browser. You can then fill it out online, print and send to your claims representative.
If you have to travel to get treatment for your work injury, you are entitled to repayment of your travel costs. The mileage rate is 53.5 cents ($.535) per mile. Mileage for reasonable travel to the pharmacy, parking, bridge tolls, public transportation and other travel-related costs are also included. 
=>>Claim your reimbursement. You will receive  53.5 cents a mile. It adds up!<<==
Forms for previous years of unclaimed mileage can found on the Worker' Compensation site by clicking this link. Look under the Claim and  Court Forms Section.
Info from the Ca. Dept of Industrial Relations: Workers' Comp