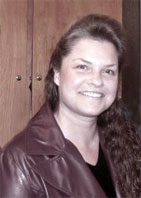 A native of California, Cherilyn moved with her family from the bay area in 1980, to be closer to her grandparents. She began her chiropractic career at the age of 16 with Dr. Charlie Ward in Danville, CA and after moving to this area she began working at Placerville Chiropractic & Sports Clinic in 1981 (Now Premier Healthcare & Sports Clinic). Cherilyn says, "I love helping people and I aspire to be responsible and accountable for guiding our doctors and staff to the best possible outcome for each and every patient that walks through our door."
Cherilyn and her husband, Harvey (of many years) have lived in El Dorado County for over a quarter of a century! They have a son, Shelby and a young grandson, Andrew.
Cherilyn's favorite past-time activities include wallyball every Monday night, quad riding (four wheeling) on the weekends and spending time with her grandson.
Cherilyn (and her family) loves the Sacramento Kings basketball team. You will find her family at the games any chance she gets. "I especially enjoy the games when Dr. Mooney shares his season tickets with me (us)," she says, with a smile.