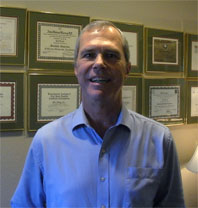 Dr. Palmer, a native of California attended Los Angeles College of Chiropractic, graduating in 1980. He moved from Southern California to the San Francisco Bay area where he practiced for 20 years. Currently, John and his wife, Blair, live in Roseville, CA and have resided there since 2001.
When asked what inspired him to become a Chiropractor he said, " A close friend was saved from needing surgery by chiropractic."
Palmer relaxes by jogging and golfing. You just might see him at a local golf course practicing his swing on his lunch break!
Interesting factoid: John Palmer played college baseball at U.C. Irvine.
Specialty:
ProAdjuster chiropractic – a NASA based technology to evaluate and align the spine.
CURRICULUM VITAE
EDUCATION
University of California Irvine, California 1972-1975
Bachelor of Science – Biology
1976-1980 Los Angeles College of Chiropractic Los Angeles, California
Doctor of Chiropractic
LICENSE
Chiropractic, State of California Board of Examiners from 1980: License 13634
EMPLOYMENT
1981-2001 CHIROPRACTOR, Owner
Palmer Chiropractic Office, Inc.
Union City, California
2002-2005 CHIROPRACTOR, Associate
Zorich Chiropractic and Rehabilitation Roseville, California
2005-August 2009 CHIROPRACTOR, Independent Contractor
Placerville Chiropractic & Sports Clinic Placerville, California
August 2009 – CHIROPRACTOR, Independent Contractor
Premier Healthcare, Placerville, California
John Palmer, D.C.  is  proud to serve patients in El Dorado County including Placerville, Diamond Springs, Shingle Springs,El Dorado Hills, Rescue, Gold Hill, Coloma, Pilot Hill, Georgetown, Cameron Park, Newtown, Camino, Cedar Grove, Pollock Pines and all the surrounding areas.